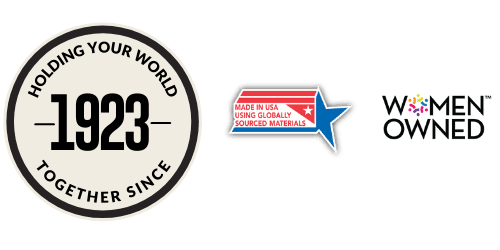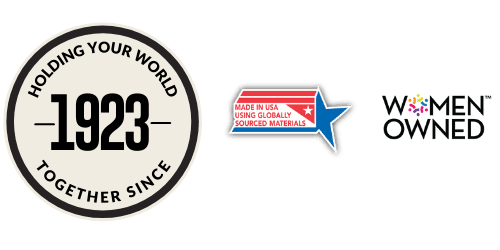 W.H. Spencer founded the company in Alliance, Ohio.
Invented newspaper, produce, TY and packer bands.
Hot Springs, Arkansas facility opened.
Invented the Open Ring® Band
Invented QW bunches and jumbo pack.
Invented slide dispenser mass market pack, perforated desk and open window boxes.
ARCO Circulation Supply supplied newspapers with a variety of circulation supplies.
Invented "Brilliant Bands" and freezer bands.
Developed the first Zip Bands for postal use.
Introduced dealer's window display.
Installed world's first continuous cure extrusion line for rubber bands.
Manufactured in Walldorf, Germany
Invented the world's first imprinted Ad Bands®
Purchased Eberhard-Faber Star and Ideal brands lines
Awarded Blue Chip Enterprise Award from U.S. Chamber of Commerce
Rubberband.com went live
Introduced ProTape® and dispensers
Named Arkansas Business of the Year by AR Business Magazine
Awarded AR Quality Award by the state of Arkansas
Invented Brites® band line
Introduced Autoband® system
Purchased mail/ship line from Rotex
Named Garland County Industry of the Year
Received Governor's Award for Drug-Free Workplace Program
Added Cable Wrapz™
Introduced Gear Strapz™ and STRAC Pack™
STRAC Pack was designed in collaboration with 5th Special Forces Group in Ft. Campbell, KY to silence and secure gear.
Introduced Non-Latex (orange) bands™
Invented Fragrance Bands™
Invented X-Treme File Bands™, colored EPDM and Non-Latex bands with Antimicrobial Protection.
Introduced Corner to Corner™
Named Office Depot HUB Supplier of the Year
Introduced Reusable Solutions™
Recognized with the Supplier Appreciation Award from the NAEPB
Introduced Eraselets®, Whiffers® scented bands and Slip-On Grip™
Received the "Excellence in Innovation Award" from the National Institute for Standards and Technology
Invented FotoFlex® four-color imprinting process
Winner in the New Product category of the Promotion Products Association Mid-South Show
Added Blacklight Ink to Ad Bands®
Received "Made in USA" Certified Product Innovation of the Year Award
Governor's award for Excellence in Global Trade
Top American manufacturer honors in the Office Supplies Made in the USA Foundation and made Movement
Hot Springs Headquarters expansion
Introduced Resistor Strip™
Developed automated bag in a bag
Garland County Industry of the Year
Highlighted in Department of Commerce's 50 States of Trade for Export Success
Launched Tie Dye Rubber Bands, Reflection Bands, 4-Way Bands and Mover Bands
Featured on premiere season of Home Factory on HGTV
Received Large Business of the Year for Community Service from Hot Springs Chamber
ISO 9001:2008 Certification
Large Business of the Year for Community Service from Hot Spring COC
Better Business Bureau's 2016 Torch Award for Ethics
Promotional Products Business Greatest Companies to Work for
Sponsorship of Mid America Science Museum's Tinkering Studio
Garland County Master Gardeners Outstanding Landscape Award
Partnership with University of Sussex to Infuse Graphene into Rubber
Opened New Division, ARCO® Silicone
Introduced Banding Machine for Seafood Industry
Introduced Brand-It™
Rubber Strips for Face Shields and Masks, and Antimicrobial Tourniquets
Governor's award for Excellence in Global Trade During a Pandemic

Awarded to those who were able to successfully overcome the economic impacts of the 2020 pandemic and retain at least 95 percent of their workforce
Alliance Rubber Company is a family-owned business with humble beginnings that has grown into a thriving American success story. Since 1923, Alliance Rubber has proudly produced rubber bands for use in the home and workplace. Continuing to manufacture its products in the USA, enables Alliance to provide high-quality products, fast service, and fresh stock that is built to last. Alliance Rubber, a women-owned company, manufactures bands that 'Hold Your World Together.'