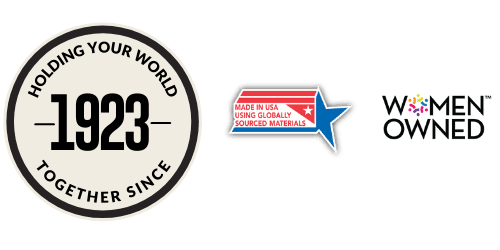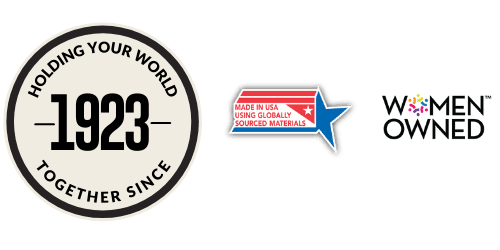 OVER 100 YEARS OF AMERICAN MANUFACTURING
The roaring '20s may be long gone, but there is one clever, indispensable device that has flourished with the test of time – the Alliance Rubber Band.
Since the arrival of the Alliance Rubber Band in 1923, these simple stretchy loops of rubber have become a ubiquitous mainstay in offices, homes, schools, and workplaces everywhere.
Alliance Rubber Company owes its beginning to the ingenuity of one man, William H. Spencer, who left his Franklin, Kentucky home in 1904 at the age of 13. Traveling by rail to seek adventure, he found himself in Alliance, Ohio in 1917 with less than $3, and began working for the Pennsylvania Railroad.
Six years later on March 7, 1923, he obtained a few Goodyear inner tubes and cut the bands by hand in his basement where he founded Alliance Rubber Company.
A TRUE AMERICAN SUCCESS STORY
In those days, newspapers were blocked and thrown in the general direction of the porch. After seeing the Akron Beacon Journal blowing across lawns, he persuaded them and the Tulsa World newspaper to try wrapping them with a band.
He went on to pioneer other new markets for bands, agricultural and industrial applications as well as a myriad of other uses.
After more than 100 years, Alliance is still a family-owned business with a rich and distinctive American heritage.
It all started with just a few rubber bands back in 1923 but since that time Alliance Rubber Company has grown into a respected American manufacturer of not only the world's finest rubber bands but also many other innovative products designed for "Holding Your World Together."
Alliance's ingenious team members have enabled us to sell to customers in over 60 countries, and the endless uses and versatile applications of the world's largest band variety continue to grow.
Our associates make the difference in our brand, and their attitude and passion for quality customer service shine. Over 60% of the Alliance Rubber Company team has been with the company for over five years, enabling us to make some of the world's best banding products at our manufacturing facility in Hot Springs, AR, and shipping location in Salinas, CA.
Today, we are proud to offer over 2,400 SKUs of packaging and promotional products that provide innovative solutions in the home and workplace to over 60 countries around the world. From Agriculture and Health & Beauty to Packaging, Commercial Fishing, and Promotional Products, countless industries rely on our products and services.
We not only show American pride through our products, but you can also see our pride when driving by our factory.
On October 12, 2016, we dedicated a walkway in honor of our 18 veteran employees and named it Freedom Falls. Freedom Falls is also a tribute to past, present and future veteran associates along with the over one million Americans who gave their lives to keep America free.
Our company has also installed an 80-foot by 40-foot American flag that stands 130-feet tall and can be seen when driving on the 270 bypass. At the top of the flagpole there is a gold ball that each of our 175 employees have signed. The flag is a way of showing how proud Alliance employees are to be working, living and creating great products in this country.